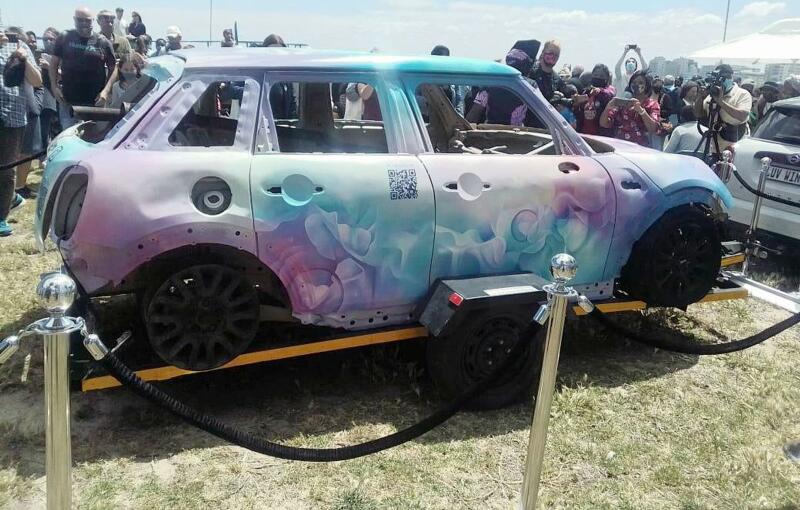 The Mini Cooper that was burnt out in Mouille Point earlier this year has been turned into a symbol of love and hope for the vulnerable.
Peter and Lesley Wagenaar woke up to find their car in flames in the wee hours of the morning on May 6.
The fire was believed to be an escalation of the backlash Mr Wagenaar had received from some neighbours for the work he does for the homeless in the area.
The brightly resprayed Mini was revealed at a mini market held on the Sea Point Promenade on Sunday November 15.
The market was organised by the Seaboard-Gugulethu CAN (Community Action Network), which was started before the lockdown to support vulnerable people by providing food and basic necessities.
Mr Wagenaar had been feeding the homeless from his beloved car during the pandemic, however, he said, a handful of people were not happy with his actions.
He said a few weeks before lockdown, he and his wife saw someone scratching in the bin and decided to get a permit and help the homeless.
He said he knew that there would be few handouts during lockdown as many people would be indoors and the homeless wouldn't be able to scratch in the bins.
"I realised that there would be tremendous hunger and they would eventually turn to crime just to put food in their stomachs. I thought if they had meals every morning and afternoon, they wouldn't harass others for food," he said at the time.
The aim of the mini market was to raise awareness for the organisations working with the vulnerable and homeless people in Gugulethu and on the Atlantic Seaboard.
Organiser and member of Seaboard-Gugulethu CAN, George van der Schyf, said they hope people can see that they can build bridges and have a dialogue between different communities.
"With this market we're inviting the greater Seaboard community to collaborate with us and build a platform to help people," he said.
The Mini will function as a mobile artwork, a "medium" for conflict resolution and a vehicle to raise funds for social welfare enhancing projects.
Mr Wagenaar said they don't care about people's agendas but they know where their hearts are and their hearts are for human beings.
"We'll be using the car as a beacon of love, hope, light in the community and to show that there's a better way to do things and sometimes we can agree to disagree in life," he said.
He added that they will be doing different projects with the car once the pandemic has settled.
"We'll also be engaging with schools to teach young children, particularly at the vulnerable stage of their lives, that one doesn't have to resort to violence if they can't get their own way," he said.