While there are many homeless people who do not want to live at the City of Cape Town's Safe Spaces, nor shelters which they claim are too restrictive, there are those who have found hope at these facilities.
Among those who were reluctant to move to a Safe Space or shelter were the people living at "Tent City" opposite the Sea Point police station (Homeless reluctant to go to shelters despite the weather, Atlantic Sun, June 15).
On the flipside are people living at the Safe Space who have been employed by the City of Cape Town.
Natalie Manuel, 49, is from Atlantis and joined the Safe Space in February this year. She is a supervisor of the group she joined in May which is employed to clean up spaces where homeless people have set up camp around the city.
"I was a drug addict for 15 years and I decided this year to change my life. A lady at the magistrate's courts in Atlantis referred me to Peter Cookson (the supervisor of the street people programme of the northern areas) and I've been at the Safe Space since February," said Ms Manuel.
"I applied for this job at the Culemborg Safe Space (and) they assisted me with the application. This shelter provides us with a place to sleep, a place to eat and now I have a job. They gave me clothes as well and I'm so grateful," she said.
"Yes, there are rules. There are rules when you grow up in your parents' house, rules at school, there are rules everywhere and I will urge those on the street to join a Safe Space if you want to change your life.
"I'm just over 150 days clean and they (shelter) have given me the support to beat the addiction. They take me to the rehab clinic, they take me back to the shelter and all they expect is that I make up my bed and follow the rules," she said.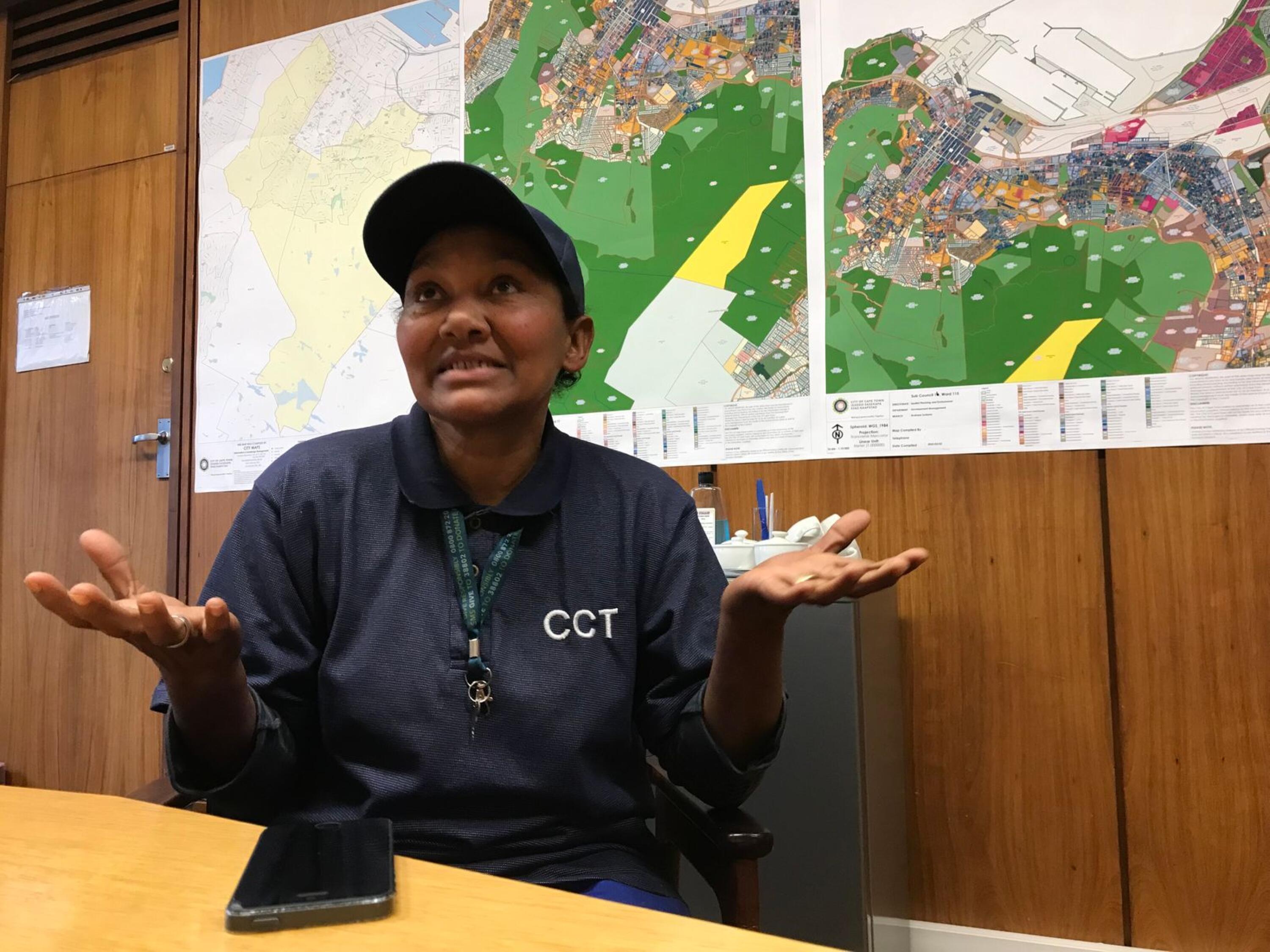 Abdulezzah Abrahams, 50, originally from Surrey Estate, joined the Safe Space six weeks ago and works with Ms Manuel.
"It's better to be inside than outside in the cold. They move around with all their clothing and they get sick and they don't have IDs. The Safe Space can help with all of that so I will say to them come inside, it's better here," Mr Abrahams said.
Mr Abrahams described working with the homeless people as "interesting and challenging".
"They don't have toilets and the defecate outside, so we clean up all of that. Sometimes the shacks burn down and we also have to see to that," he said.
Marshall Gous, 35, came all the way from Kuruman in the Northern Cape to look for work in Cape Town.
"We keep the city clean, we sweep, we pick up papers and clean, specifically where the homeless live. I enjoy what I do, I have a job and I'm thankful for what the City is doing," said Mr Gous.
"I've got no complaints at all about Safe Space. I'm just thankful for this job and the place where I stay."
Ms Manuel, however, is concerned that her time will soon be up at the Safe Spaces as they only take care of people for six months.
Mr Cookson said some people have stayed well beyond the six month time-frame.
"We have success stories, we have reunited people with their families, we have assisted people to beat their drug habits. We have relationships with the homeless people where we clean-up and the cleaners are happy with their jobs, " said Mr Cookson.
"I've been part of this progamme for 27 years and we have never told a person to leave because their time is up. All we ask is that they follow the rules, get a job and join a rehab programme if they are abusing drugs or alcohol. So a person like Natalie who is a good example shouldn't worry about that. It takes time, definitely more than six months, for people to establish themselves in new jobs and we definitely don't put people in the streets," he said.