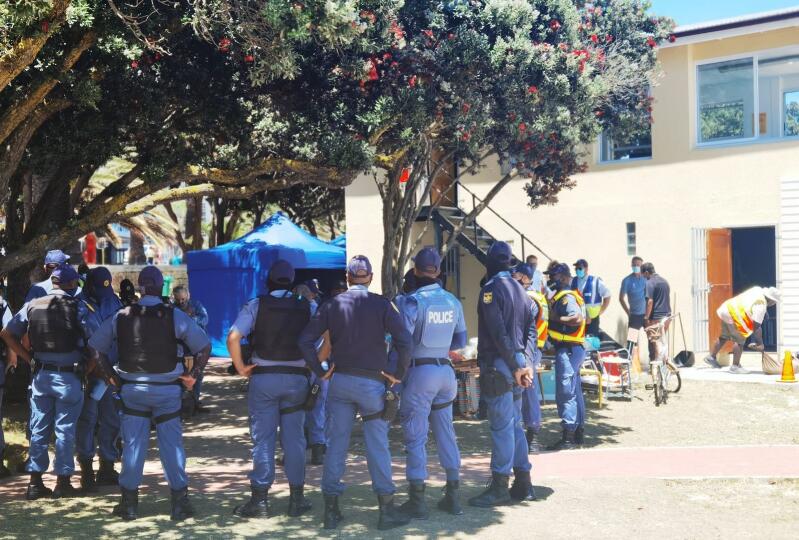 Police Minister Bheki Cele shut down a film shoot at Camps Bay beach on Wednesday December 16.
As he led a walkabout with the deputy minister of police, Cassel Mathale and senior SAPS top officials, to inspect compliance of Covid-19 regulations on beaches in the City of Cape Town, Mr Cele noted with concern, the "reckless" behaviour of some bathers on Cape Town's beaches.
This, he said, flew in the face of the country's efforts to curb the spread of Covid-19.
He also instructed a film production company shooting a commercial on the beach to shut down because their activity was not compliant with what is permitted on beaches.
"While it was permitted by the City of Cape Town, upon closer inspection, the production was not compliant with what is permitted on beaches, as stipulated on the Covid-19 regulations," he said.
"According to the permit of the production company that was handed to the SAPS, the production would go against the very rules set out by the president which are clear on what is permitted on beaches and therefore could not be allowed to continue for now," he said.
Responding to this, the City of Cape Town said they were approaching the Western Cape High Court for an urgent interdict to prevent SAPS from interfering in in film production on Camps Bay beach.
Mayoral committee member for safety and security JP Smith said Mr Cele had instructed more than 30 police officers to close down a film shoot which had been given the go-ahead by the City's Film Permit Office.
He said the office was authorised in terms of the City's Film By-law to issue the relevant permits to resume filming in public spaces.
"Shutting down the film production without proper cause is an illegal action and it goes against the current national state of disaster regulations which allow the film industry to continue working," Mr Smith said.
He pointed out that the film shoot was work, not a recreational activity and that the latest regulations gazetted on Tuesday, December 15 did not prohibit filming on beaches in Cape Town.
The regulations prohibit the hosting of festivals, live music, live performances and loud music at beaches. "We are therefore asking the High Court to prohibit the Minister of Police from overstepping the scope of his authority," Mr Smith said.
"As the City of Cape Town, we are aware of the risk posed by the Covid-19 pandemic and it is in this regard that we drafted Standard Operating Procedures for filming, which clearly outline the health protocols to ensure film sets are safe work environments," he added.