Last Thursday residents and staff at the Cape Peninsula Organisation for the Aged (CPOA) Sea Point Place care centre received the first of two Pfizer injections and were all delighted at getting the vaccine to prevent Covid-19.
Just over 200 elderly people live at the care centre and in six weeks, Sister Yvette Kruger and her team will return to administer the second and final jab.
"There were no complications, a little bit of a headache for a few and pain at the site of the injection but that's all. We have extra staff working during the day and night shift to check up on the residents," said Ms Kruger.
The residents shared spoke to Atlantic Sun about getting the jab as well as the effects of lockdown.
"I'm very pleased to get it. I realised it's not going to be bad", said Celeste Davies, who asked that we don't divulge her age.
"The lockdown was frustrating. It's over a year now but this place was great. We had to do what we had to do, we used to order things from shops and the stuff that they delivered was ridiculous but it was funny and we made the best of a bad job. I had Skype with my children and I felt safe, and my kids knew that so they felt good about it too," she added.
"It's compulsory, so we all just do what we have to do. We don't ask any questions," said Valerie Greeff, 87.
"As for the lockdown, it was not a problem. We have so much to entertain ourselves with, interesting people that live here. We were fine" she added with a smile. "I think about them and they are always with me."
David Price, 75, added: "It's excellent. I'm impressed with the way it's gone. It all happened so quickly and I'm glad to have got it.
"Lockdown was difficult at times but we adjusted to it. Missing the kids? Not really," he chuckled.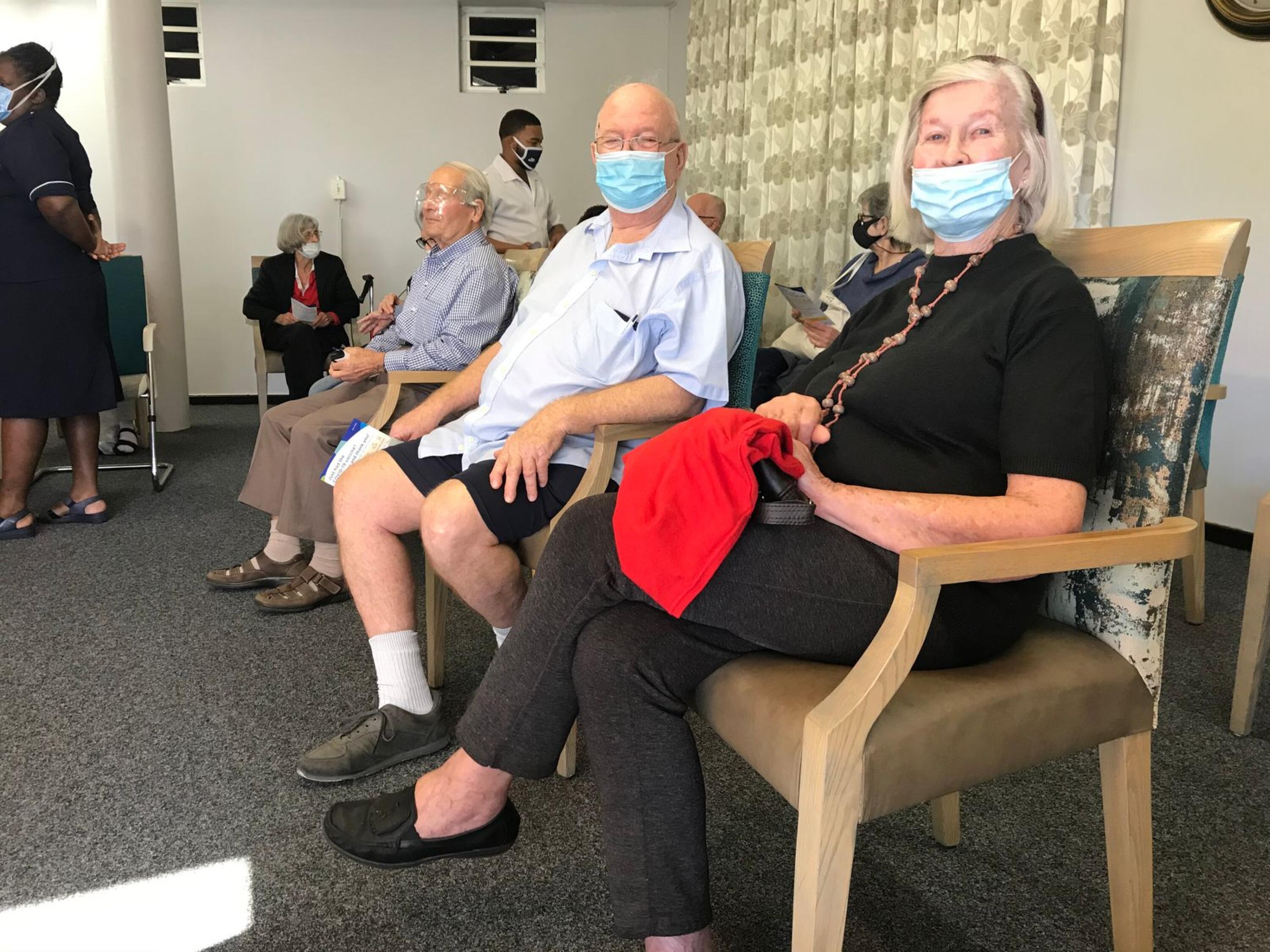 Henriette Hodges, 69, said she was a loner before lockdown and did not feel the effects of the social distancing while Hanlie Mackrill, 78, cannot wait to see her children in Switzerland.
"I'm looking forward to the second injection and I hope that the rules for travel change as I really want to see my kids. That's been the worst part of this lockdown, not seeing them," she said.
"Lockdown was tough. It had to happen, but the good thing about it was that we had our lunch delivered so I could eat my dessert first. My neighbour did not eat her dessert so I had two; I made the best of the situation," Ms Mackrill joked.
"It has to be done, it's essential and I presume it's part of the general immunity that we need to build up in the country," added Neil Watson, 79.
And James Thomas Wells, 86, said he could not understand why people were refusing to take the vaccination – because it was necessary to get rid of Covid-19. Like the rest of the residents he too had adjusted to the rigours of lockdown and was hoping for the elimination of the pandemic.