Yesterday, Wednesday July 7, the Cape Town International Convention Centre (CTICC) turned mega-vaccination site opened its doors to receive about 700 people for their Covid-19 vaccinations.
Ahead of the opening, the Western Cape Government, City of Cape Town and Discovery Health Services had a site visit to check the readiness of the CTICC mass Vaccination Centre of Hope.
The oversight visit on Tuesday July 6 was attended by the Premier Alan Winde, Provincial MEC of Health, Dr Nomafrench Mbombo, Mayor Dan Plato, Mayoral committee member for community services and health Dr Zahid Badroodien, Discovery Group executive, Adrian Gore and Discovery Health CEO, Dr Ryan Noach.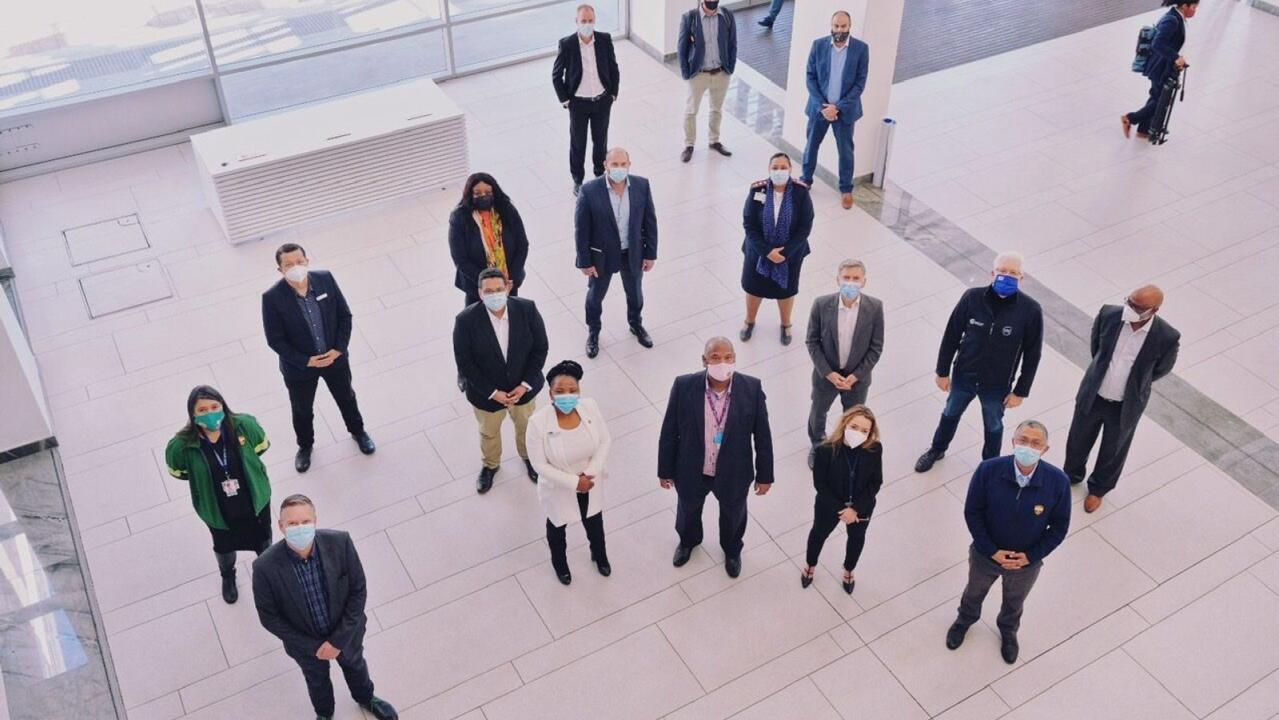 The CTICC Vaccination Centre of Hope is set to be one of the largest and most sophisticated vaccination sites in the country and is expected to administer over 750 000 vaccinations in Cape Town from this month until December and, according to Mr Winde, will work its way up to around 4 000 vaccines administered a day in the next two weeks.
It will be jointly run equally by Discovery and the Western Cape Government at a cost of R15 million over six months. The Western Cape government will be primarily responsible for overall co-ordination, supply of vaccine, clinical and facilities management, and Discovery Health will be responsible for client experience, various aspects of the technology solution and administrative functions.
There will be 250 staff members at CTICC over 50 vaccination stations.
Mr Winde said the Western Cape Government had decommissioned the CTICC's Hospital of Hope in September last year. The temporary hospital was opened to provide extra beds during the Covid-19 pandemic.
This year, the CTICC will be acting as the Vaccination Centre of Hope, which Mr Winde described as a "pioneering collaboration, that shows what is possible when the private and public sector work together".
Dr Mbambo said this was the third mega vaccination site opened to speed up the process – the other two are Parc Du Cap vaccination site in the Bellville area, and the Old Mutual vaccination site in Pinelands.
She said plans are under way to add Athlone Stadium as one of the vaccination sites.
Mr Winde added: "Athlone is exciting because it's not just going to be walk-ins, it's going to be drive-throughs to get your vaccine. We need to see that kind of speed at our sites in our communities where people need to earn a living."
These are apart from the smaller vaccination sites in Cape Town, including Pelican Park Clinic; Pelican Park; Matthew Goniwe Clinic in Khayelitsha; Brooklyn Chest Hospital in Rugby; Helderberg Hospital in Stellenbosch; Mitchells Plain Hospital; Khayelitsha Hospital; Karl Bremer Hospital in Belville; Brackenfell Clinic; Gugulethu Community Health Clinic; Hanover Park Community Day Centre; Cross Roads Community Health Clinic; Dr Abdurahman Community Day Centre; Inzame Zabantu Community Day Centre in Philippi; Heideveld Community Health Clinic; Mitchells Plain Community Health Clinic; Nyanga Community Day Centre; Gugulethu Clinic; Eerste River Clinic and the Cape Town Civic Centre.
Online sites include Bishop Lavis; Bothasig CDC; Adriaanse Clinic in Elsies River; Chestnut Clinic in Belhar; Delft Community Health Clinic; Durbanville Community Health Clinic; Goodwood Community Day Centre; Kraaifontein clinic; Kuyasa Library in Khayelitsha; Lansdowne Library Hall; Ocean View Civic Centre; Reed Street Community Day Centre; Ruimte Road Satellite Clinic in Manenberg; Stikland Hospital; Symphony Way Community Day Centre and Tafelsig Thusong Centre in Mitchell's Plain.
She said the demand for vaccination increase, they will look at making the sites operate for longer hours.
Mayor Dan Plato said he was looking forward to the site becoming operational, helping vaccinate hundreds of thousands of Capetonians across the City.
"The City, Province, and Discovery Health are ready to provide a significant boost to the vaccination campaign and we have urged the national government to increase its procurement and rollout of the vaccines so that more age groups can access the vaccine.
"An expanded and ramped up national vaccination rollout would bring an end to the need for further national lockdowns that harm livelihoods and impact the recovery of the economy."
Asked about walk-in clients, the head of operations in the provincial Department of Health, Dr Keith Cloete, said clients over 60 will be prioritised; and they have opened registration for over 50s.
However, he said, walk-ins will be allowed depending on capacity and staff. "Walk-in patients have to wait a little longer as we are working on getting the over 60s their second vaccine, while we have opened registration for over 50s and some over 60s are still waiting for their first vaccine.
He said people who received their SMSes stating that they need to be vaccinated will also be prioritised at the sites, however, no one will be left behind.
"There are 30 000 people over 60 that need to come for second vaccinations, there are over 60s for 1st dose and we opened over 50s, so the demand will increase from next week."
Registration will be possible at the CTICC vaccination centre to help those who need assistance, and vaccinations will be free of charge for everyone visiting the site.
The CEO of Discovery Health, Dr Ryan Noach, said the mega-site is a welcomed boost for South Africa's vaccination programme.
"When it comes to the national mass vaccination rollout, there is strong alignment between saving lives and saving livelihoods – two inseparable priorities. This site will contribute significantly to the national target to provide access to Covid-19 vaccination for 41.7 million adults in South Africa, to reach population immunity and prevent further waves of infection."
He said they were encouraged by early vaccine efficacy data analysis on Discovery members who have been vaccinated, which provides strong evidence of the protective effect of the Covid-19 vaccination.
Preliminary data analysis shows 47% reduction in Covid-19 infection rates among vaccinated populations 21 days after receiving the first Pfizer-BioNtech vaccine dose and an estimated 50% reduction in hospitalisation post first dose.
"These findings are congruent with international experience and highly encouraging from a South African perspective."
The site will have sophisticated cold-chain refrigeration, waste management processes and IT infrastructure, and the capability to administer both the Pfizer-BioNTech double dose and Johnson & Johnson single dose vaccines.
Mr Winde said the Covid-19 vaccines used in South Africa are approved by the South African Health Products Regulatory Authority (SAHPRA) and are safe.
"It is important that every single person gets vaccinated as soon as possible. I urge you to register when it is your turn, so that we can fight back against Covid-19 and continue to save lives and livelihoods."
Everyone over the age of 50 is currently eligible to register for their vaccine by using any of the following steps:
• Visit http://vaccine.enroll.health.gov.za/ (which can also be accessed on www.westerncape.gov.za)
• WhatsApp the word REGISTER to 0600 123456
• Dial *134*832*ID number# if you don't have internet access