Last Saturday the Pristine Earth Collective worked with a Community Action Network (CAN) from Gugulethu to clean up Milton Beach in Sea Point. The initiative had the support of the City of Cape Town.
"We are doing a deep clean up and we are trying to get the public involved. We focus on plastics, small plastics, that makes it way to the beach and sea through the storm water drains. The kelp on the beach traps the plastics and we have to clean between the rotting kelp," said George Van Der Schyff, a director at Pristine Earth Collective.
To preserve the ecosystem, the kelp is left to decompose on the beach for specific periods of time.
"The rotting kelp plays an important role ecologically and needs to be left for a certain time as it gives nutrients back to the shoreline. I know that the City does have a stringent rotation policy as to when they remove this," Mr Van Der Schyff explains.
PEC works with various organisations to remove litter from rivers and oceans.
"Although we focus on plastics, the more we work in these spaces we have realised that building rubble, sanitary ware and plastic, it's all intertwined. So we pick up all sorts of litter and not just plastic," Mr Van Der Schyff said.
"In Gugs we have a group of youths that identify places to clean, alley ways and fields, and we do big clean-ups there once a month. And then we take them to places that they normally won't get a chance to visit like Muizenberg beach where they surfed, to the aquarium, to the mountains, and we are building a sense of environmental and ocean connectedness so they are more aware of why we do what we do," he said.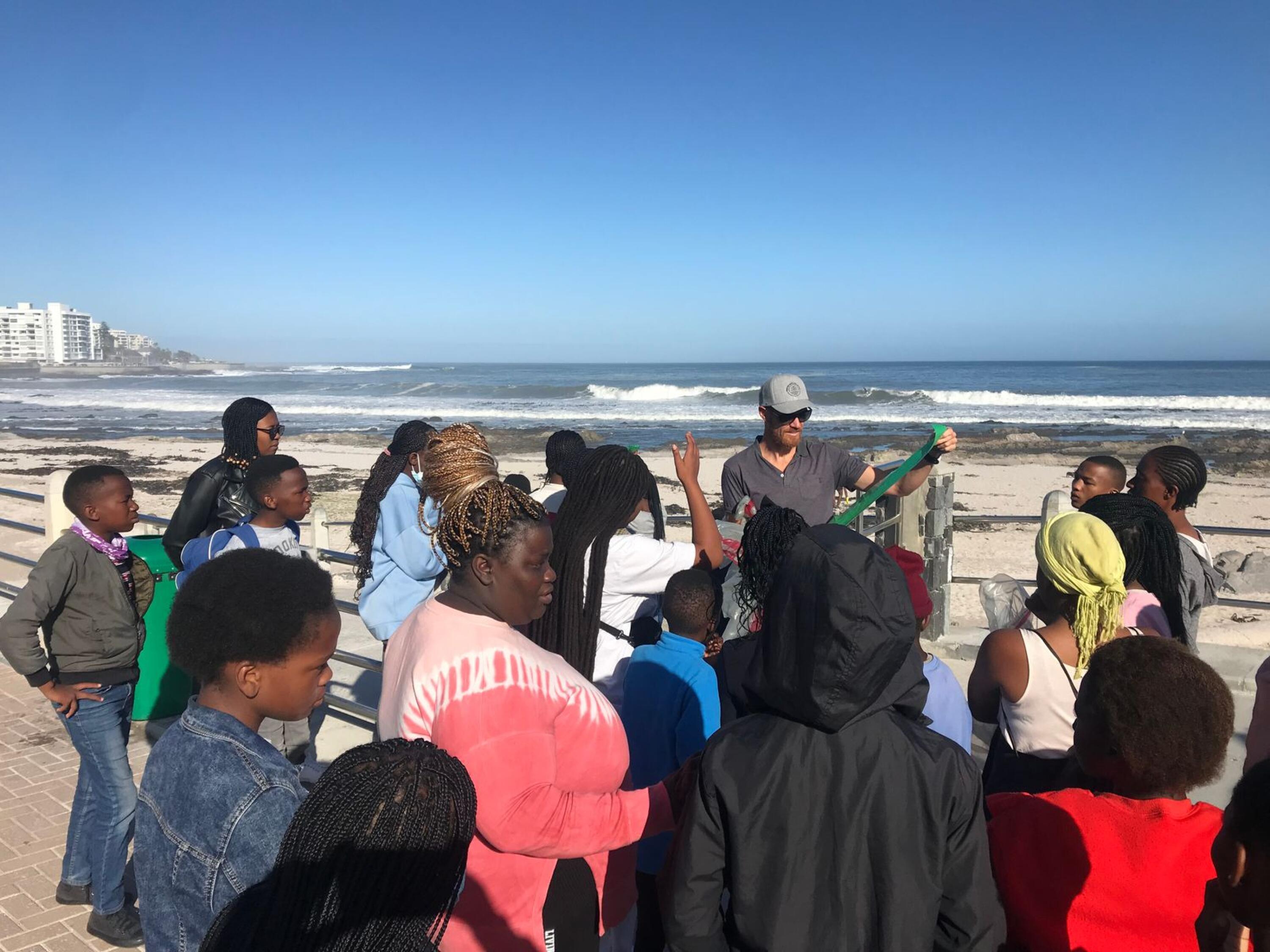 Pamela Silwana, community liaison for the Gugulethu CAN, organises township clean-ups and teaches environmental awareness to the children.
"We are grooming them, teaching them about the environment and why it's important to clean up the area they live in. They need to change their thinking and hopefully they can influence their parents as well," said Ms Silwana.
There were 25 young people and 10 adults from Gugulethu who volunteered for the clean-up operation in Sea Point.
"Today we are taking the kids out of the township. They are boxed in there and now they can experience this beautiful side of the world and once they're here they can dream of a world beyond Gugs," she said.
Ward 54 councillor Nicola Jowell, and Ward 115 councillor Ian McMahon, joined Pristine Earth Collective and the volunteers at the beach.
"This is what the mayor is doing as well, getting people to take ownership of their community and their city by cleaning up in their neighbourhood. We have to take pride and this is the start of changing the mindset of residents," said Ms Jowell.
"I do see residents walking with bags and picking up litter and doing this as a group is so impactful. We have arranged for the garbage trucks to pick up the garbage bags when we're done and we are working with George to implement litter nets for the storm water outlets, and we are here to encourage residents to join us in this clean up," she said.
Ms Jowell added that Milton beach was a natural beach and therefore kelp was not always removed from the beach whereas Camps Bay and Clifton fourth were collection beaches where kelp was regularly removed by the City.
"Kelp plays a vital role in the ecosystem and as much as it looks unsightly, it is left to decompose naturally. People are reminded not to move it around and pile it up, but if it does become problematic then the City will remove it. It does trap the little pieces of plastic and that's what we are doing here today, cleaning between the kelp," she noted.