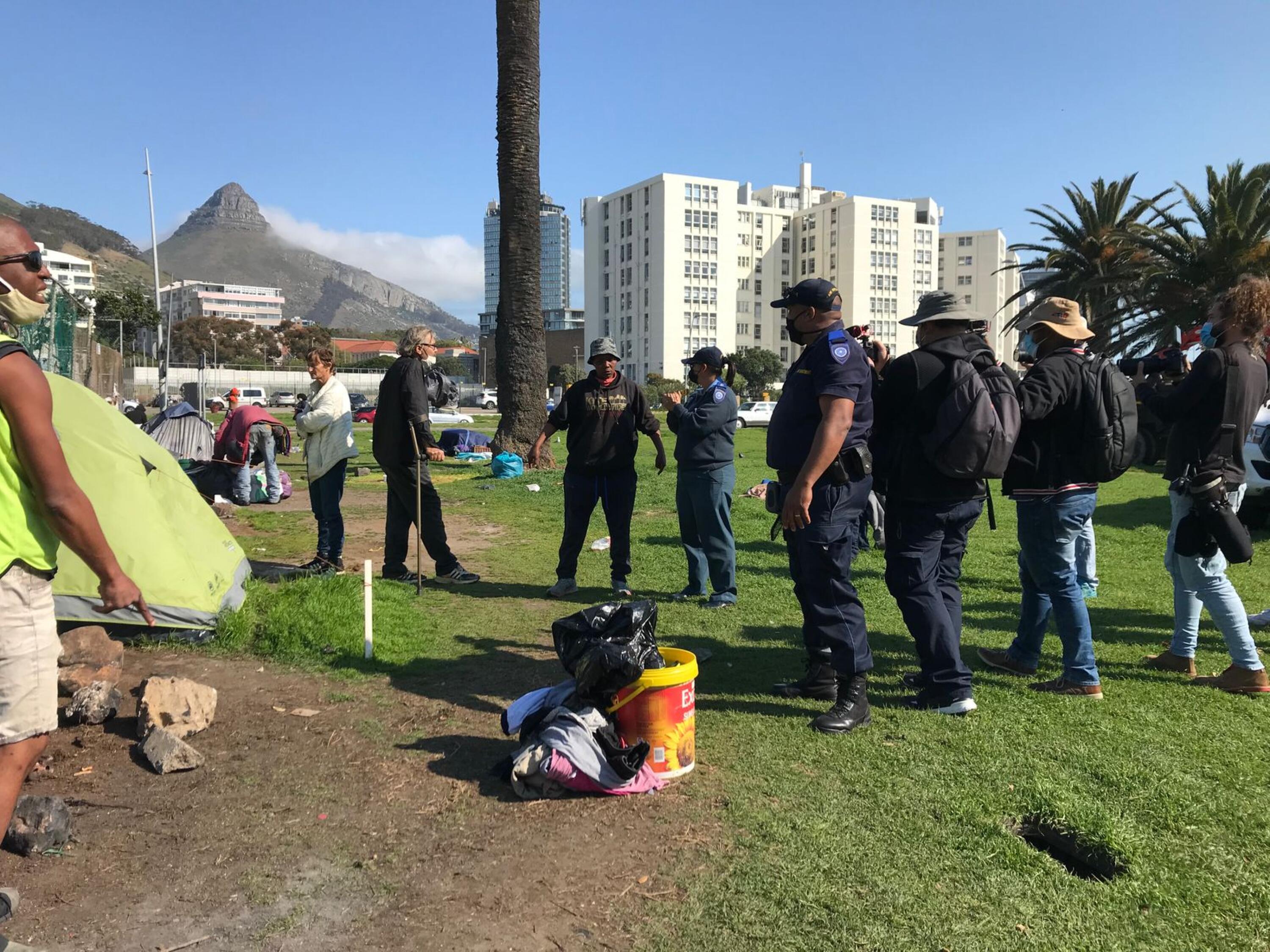 Homeless people living alongside the tennis courts in Sea Point had their belongings confiscated by law enforcement on Monday afternoon.
They had been living near the police station in a makeshift camp for a number of months.
Christopher September, 53, said they took his things, including his ID, while Walter Harrington, 34, says he was also given a fine.
"They gave me a R300 fine for what I don't know. It seems I'm the only one who got that fine. They don't' have permission to do this, they can't show us documents to prove that they can do this," said Mr Harrington.
"This morning people from social development were here and they took three of us to shelter and when we came back my stuff was gone. My ID is gone, they gave no reason for doing this," said Mr September.
A concerned resident, Catherine Dodge, says that besides the disturbing situation she noticed that some of the law enforcement officers are not wearing name badges.
"They have no interdict, I asked the group leader and they could not show me anything. They did not give the residents any notice about what they would do or when," said Ms Dodge.
"What also concerns me is that some of them are not wearing badges that identify who they are and I'm quite concerned about this. They claim to be from the displaced persons unit and I've tried to get in touch with law enforcements leaders but they are unavailable, it's absolutely devastating to see how they conducting this, it's inhumane," she said.
Shaun Hibbert says when he got back from the hospital he saw the law enforcement officers removing tents and advised him to do the same.
"I went to the day clinic to get my brother's TB tablets and to get the results for mine, but the nurse was not there so I have to go back tomorrow," said the 49-year old. "I'm not sure where we are going to and what will happen to us."
A South African Human Rights Commission monitor, Annie Kirke, says that the homeless people thought that they would have 24 hours to move after the social development department's visit earlier in the morning.
"They came back after a few hours and people are saying their personal effects have been put on the lorries, structures have been removed, there are sick people here, I believe somebody has TB here and there are concerns about those who have health issues. I've called a social development practitioner about this and to check if they have accommodation and that they not offering spaces that don't exist."
The City of Cape Town did not want to comment on the matter.
Ndifuna Ukwazi Law Centre were outraged and called it a senseless act of brutality by the City of Cape Town.
"Many have suffered from evictions after losing their jobs, livelihoods, and homes as a result of the economic devastation brought about by the Covid-19 pandemic. The City's illegal actions have left the occupiers destitute and without alternative accommodation. This forced displacement of vulnerable people, amidst the peak of Cape Town's Third Wave of Covid-19 infections, exposes the City's lack of sustainable solutions for dealing with people who experience homelessness," said Danielle Louw, attorney for the occupiers.